KUWAIT AIRWAYS, PROBABLY THE WORST AIRLINE
aziz anom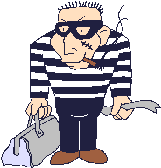 Have you travelled by Kuwait Airways? Well, don't ever do it. It is about the worst airline I have come across. The food is lousy and not only do they not serve alcohol, they even prevent you from consuming your own. And the service -- well, it's just awful.
But that's not all.
I travelled from Copenhagan to Cochin with a stop-over in Kuwait where you and your luggage are transferred to another of their planes. On arrival in Cochin a lot of us passengers discovered that our bags and suitcases had been broken into and some expensive items stolen. It had obviously happened at Kuwait airport. The airport staff at Cochin were very helpful. They helped us write complaints and compensation claims which they said they would forward to Kuwait Airways. But in the coming days and weeks nothing happened. Kuwait Airways it seemed had no intention of either apologising or reimbursing. So I sent them e-mails, to their office in Cochin and to their head office in Kuwait -- not once but several times. There was not one answer from them. Then in Colombo, Sri Lanka, I happened to pass their office and had a chat with a Sri Lankan lady employed there. She was very keen to help me; gave me a cup of tea and asked me to fill out a form and then she picked up the phone to ask her boss where she should send the form to. When she put the phone down, her attitude changed. "No need to fill the form," she said."We have to decide what to do and then we will let you know." She took my address and I went away.
Never to hear from her again.
This airline is totally irresponsible. And it should be barred from flying.
The hypocritical Sabahs who rule Kuwait because the Americans are protecting them love to drink alcohol themselves and indulge in fornication as soon as they are out of their country.
Stealing the oil money from their own people is apparently not enough for them -- they have to steal from airline passsengers as well.
For complaints from others about Kuwait Airways, CLICK HERE
Also by the author: